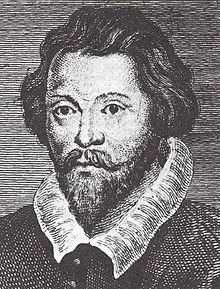 Since I last wrote, I have been hanging out in the late 16th and early 17th century. I have been finding my way back to the earliest roots of keyboard music, and I don't mean Jerry Lee Lewis.
Lately I've been playing pieces by the Renaissance-to-Baroque composer William Byrd (1540-1623), who may have been the first full-on keyboard virtuoso. In Byrd's day, the keyboard was a relatively new instrument, dating back only to the 1400s. Think about it - people had been playing lutes and harps for centuries, but a keyboard requires so much mechanical operation, it's a wonder it was ever invented at all.
So I am busying myself with Byrd's gigues (a.k.a. jigs), pavans, galliards (lively tunes in 3/4 time) and alemans (slow marches). Many of these are selections from the massive collection of Renaissance and Elizabethen keyboard music, the Fitzwilliam Virginal Book (a virginal is a scaled-down, single-manual harpsichord, often played by young ladies). I'm playing "Wolsey's Wilde" and the pavan and galliard for the Earl of Salisbury, which are rather soulful pieces. This music is from 100 years before J.S. Bach, and it's much closer to folk music than Bach is. Renaissance keyboard music is simpler, less harmonically sophisticated than Bach, partly because of the limits of the tuning systems of the time, but it has its own charms. In its simplicity it has subtle movements and engaging chord progressions. This is music made for dancing and designed to delight. It does not carry the weight of religious or devotional music. When you're playing a piece called "John, Come Kiss Me Now," you know you aren't playing church music.
I have also been playing pieces adapted for keyboard that were written by the lutenist John Dowland (1563-1626), who was the Bob Dylan of his day - a tremendously deep and prolific songwriter who led a tumultuous life. And I am playing old English songs by Henry and William Lawes ("Gather Ye Rosebuds") and Henry Purcell. I intend to learn some tunes by John Bull (1562-1628) as soon as I can get my hands on some sheet music. And I have tried my hand at some Orlando Gibbons (1583-1625), who has a style all his own. 
As for listening, the record shops in Brooklyn and Manhattan sell vinyl LPs of harpsichord and virginal music at bargain prices, and I have gotten my $5 worth from old LPs by Gustav Leonhardt, Christopher Hogwood, Igor Kipnis and Trevor Pinnock. On YouTube I have enjoyed the harp-like sounds of young harpsichordist Bertrand Cuiller, and I have tickets to see harpsichord firebrand Mahan Esfahani when he makes his Carnegie Hall debut on May 1. 
The sound of a harpsichord has gotten under my skin. There's something intimate and vulnerable about it. The sound enters with a pinpoint accuracy, then it soon decays. There's something poignant about that. Or maybe I'm anthropomorphizing again. There's no sustain pedal, so there is nowhere to hide. And all notes have equal loudness, so you have to achieve your effects simply through touch and how long you sustain the note and how you release the note. Emphasis comes from phrasing and from playing more notes at once. And of course the trills and ornaments are a field of study all to themselves. The contrast between sound and silence is much more pronounced on a harpsichord than on a piano. If piano music is like charcoal drawing with shades of gray, the harpsichord is like black-and-white ink drawing.
As for getting informed on music of the period and performance practice, I have read most of Wanda Landowska's "On Music," and I recently made a great find at East Village Books on St. Mark's Place - "The Sources of English Keyboard Music," by Charles van den Borren, originally published in 1913 and long out of print. I bought it for $10 - original cover price is 18 shillings.
That said, I am in no danger of becoming a harpsichordist. To own one of those fantastic instruments would be wildly impossible, for a number of reasons. But I'm using a Yamaha CP-4, which has wooden keys and a pretty good sampled harpsichord patch, and for my purposes, I can get as close to William Byrd's music as I need to be. 
If anyone has any comments or thoughts about harpsichord music, please let me know.