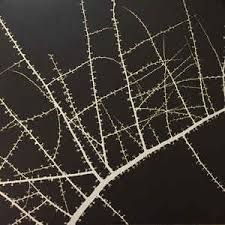 Last Saturday night, Karl Berger - pianist, vibraphonist, teacher and leader of the Creative Music Studio - presented a night of new piano music with strings at the Greenwich House Music School on Barrow Street in Greenwich Village. He sounded great and gentle on that Steinway in that old, musty auditorium - great touch, great feeling.
On bass was Ken Filiano, bowing a lot and creating a real acoustic buzz on the instrument. On violin was Sana Nagano, who participated in the spring CMS workshop. At the workshop, she was amplified and doing some "rock" things. This particular night, she was acoustic but just as wild, and getting a fine, clear tone when she chose to use it. Also in the ensemble were, on viola, Jason Kao Hwang, on cello, Tomas Ulrich, and guesting on low-range clarinet, Sweet Lee, who performs regularly with the Improvisers Orchestra.
Karl Berger said a few words to the effect that this is instrumental music, though he likes to have vocals involved. He said the human voice has greater expression than any instrument, and instrumentalists have machines to work with. Over time, the machines get better and better, and then the instrumentalists put down the singers. 
To start the evening, Ingrid Sertso went to the mic and poeticized on a quotation from Ornette Coleman while Karl and Ken improvised behind her with long tones and quick reactions. Then Karl and Ken played music from Karl's three recent albums of piano music that he is doing for the Tzadik label. Karl said that the records went from solo piano to trio to full string ensemble, and so went the program on this evening. Piano, four string players and one tune with clarinet. Short pieces, all engaging and friendly to the ear, though with surprising and even shocking moments. All the musicians sounded great in that musty old auditorium, which was built in 1851.
After the Greenwich House, nothing could be further distant than the National Sawdust performance space in Williamsburg, which is about two blocks west of my apartment. Several million dollars have been poured into this venue, and its profile is rising fast. The room at National Sawdust is a futuristic interior like something out of "A Clockwork Orange." I sat in the second row and saw a duet of Terry Riley on Bosendorfer piano and M-Audio synthesizer, and his son Gyan Riley, who is a fine and meticulous electric guitar player.
Riley was his genial self, looking hale in his 80th year. The duo began with a raga-like pattern that stayed in one scale or mode, and it had a cycle of beats rather than a time signature. I tried counting the beats and thought they came to ten, then I decided that counting the beats was distracting me from the music, so I let it go. 
Terry Riley then played the intro to Duke Ellington's "Caravan," and the duo did a deconstruction or lengthy exposition on that tune - the root note, then a half-step up, then back to the root. Riley jazzed it up, playing some real blue notes and taking brisk runs up and down the keys and sticking the landing. He sang dreamlike lyrics that transported Ellington's caravan to a surrealistic airplane journey. 
Another dreamlike tune was one that they introduced as the "California National Anthem." It began with lyrics something like, "Cannabis is a wonderful drug / Makes you feel like a cat on a rug / It takes your head trip lightly / I like to take it nightly." Did I mention that Riley has a benevolent smile on his face? This "National Anthem" went through a Dylan-like 15 or 20 verses, ending with a koan-like story about being conveyed in a rickshaw, then climbing a tree, then disaster, then an eyewitness account of reincarnation.
Gyan Riley was more than a foil - he began several of the tunes and wrote some of them, and he joined in on vocals and even scat-singing. He used a slide and an e-bow to get theremin-like effects on the guitar. After the show, I met him briefly, and he seems to be a nice guy.
Terry Riley may be the jazziest of the great "classical" composers who are among us. On one tune he broke out the melodica - yay, melodica represent! The duo's last tune was "Old Sun," a lament of a laborer who is asking the sun why it won't travel faster across the sky and go down. The tune suggested Hoagy Carmichael's "Lazybones."
Toward the end of the set, Gyan Riley said, "Are we out of time?" Terry Riley said, "No, time keeps going on."
One reason to live in New York is that on a Saturday night I can see Karl Berger play his new music, and a few nights later I can see Terry Riley play his new music.
To tie this all together, Karl Berger and Terry Riley appear together on a recent LP release called "Koln, February 23, 1975," along with Don Cherry on cornet. It's on the Modern Silence label, which is based in Malta. If you want a copy, which I think you do, you have to go out and find it - it's not going to come to you.