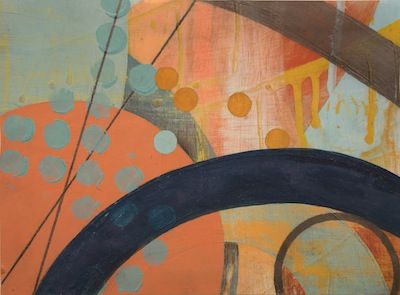 "Untitled No. 40 (2015)," by Brooklyn-based artist Linda Kamille Schmidt.
It's flashe and graphite on mylar. And it will appear on the front cover of my next CD, which will be called "Pale Afternoon," and which will be released this calendar year on Three Dots Records.
This will be my third full-length release of instrumental pop tunes. "Pale Afternoon" was recorded, mixed and masteed from the spring of 2012 through the fall of 2015, though in relatively few studio sessions. "I made it very quickly, over a long period of time," says Duffy, who is also myself.
The record started with tracks from a core group composed of Jim Duffy on Wurlitzer electric piano, Dennis Diken, world-famous as founding and current member of the Smithereens, on drums, Paul Page, who tours the world with Ian Hunter, on bass, and Lance Doss, who has toured and recorded with John Cale, among many others, on guitars and lap steel.
"Pale Afternoon" also features Kevin Kendrick on vibraphone, Michael Evans on percussion, Sam Kulik on trombone and Claire Daly on baritone sax.
The album was recorded and mixed by Greg Duffin and Mario Viele at Cowboy Technical Services, Brooklyn, NY. Mastered by Scott Hull at Masterdisk.
"Pale Afternoon" has 11 original tunes of three or four minutes each. The music is in a style similar to the first two records - what I call "moody and bouncy instrumental music." The difference is that although the music remains simple in conception and construction, it has developed and evolved. It's more harmonically adventurous, and more of the tunes count to six instead of four or eight. More to the point, I believe each tune gets to a more specific feeling. As Lennie Tristano said, music should come from the id, not the ego.
My heartfelt thanks go out to everyone who participated. There's not really any such thing as a "solo" record. Even if you're a recluse and keep to yourself, you need help from a lot of people in order to realize your musical inklings and make them available for the world at large.

"Pale Afternoon" will be officially released, to the extent such a micro-release is "official," in January 2016. I expect to have copies of the CD - artwork and all - by mid-November. And I'll soon be posting previews on the Music page. 
Hi - my next record, "Pale Afternoon," has been mastered, the artwork and design are in the works, and it will be available before calendar 2015 is done. I want you to be the first to know.
It's more instrumental music of many moods. It's in a similar style as "Side One" and "Mood Lit," though I believe that style has evolved and developed. Harmonically it's a little richer, and the rhythm section has a new looseness to it.
It was three and a half years in the making. I take a long time to make a record, even though making records is just about my favorite thing to do. My thanks to all the musicians who played so splendidly, and to the sound engineers who applied their big ears and NASA-like skills to the project. All thanks and acknowledgments to the individuals who participated will be detailed later.
Artwork is by Linda Kamille Schmidt, as seen above.
Yeah, I don't say much on this here blog. You're probably not interested in my personal life. Heck, I'm not that interested in it myself, so why would you be? Oh well. But I love making music. I have had a long and checkered career, and after all this time I feel as though I'm just getting started. 
I'm pretty excited about this record, "Pale Afternoon."