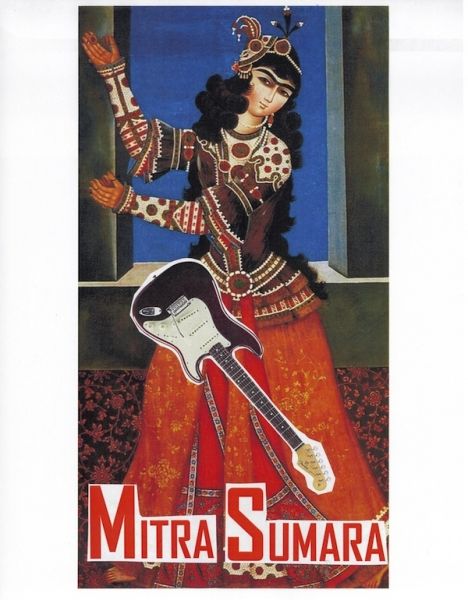 If you feel something pulling on you, it's me pinching your sleeve to tell you that I'll be participating and making sounds in two upcoming events on Friday, July 12, and Saturday, July 13.
On Friday, July 12, Mitra Sumara, the eight-piece band that plays pre-revolutionary Persian psychedelic pop and funk, will perform one long set at Drom, 85 Ave. A, in Manhattan.
Mitra Sumara is led by singer Yvette Perez, who sings these 1960s and '70s hits in the original Farsi. The band features Peter Zummo on trombone, Julian Maile on guitar, Bill Ruyle on hammer dulcimer, Jim Duffy on keyboard, Sam Kulik on bass, Michael Evans on percussion and Brian Geltner on drums.
We'll be swinging these tunes as hard as we can, and we hope you'll come out and join us under the party lights.
To see recent video of Mitra Sumara performing at Le Poisson Rouge in New York, click here.
And then, the following night, Saturday, July 13, from 6 to 10 p.m., yours truly, Jim Duffy will provide some piano sounds at an art opening for Camille Iemmolo, an installation artist from Chicago. The event will be at The Proposition, 2 Extra Place in Manhattan -- in the East Village, behind where CBGB used to be.
Camille will transform the intimate Proposition gallery into an alternate universe of delicate and striking imagery in three dimensions. Her handmade aesthetic will make an impression on you. Among the carefully considered objects in this mini-wonderword will be the "Talking Piano," and my job will be to help the piano talk.
New York is starting to empty of people on the weekends, so the rest of us have the city to ourselves. Are you feeling artsy and a little restless? Then mark that weekend. Spend Friday night, July 12, shaking it with Mitra Sumara, and then on Saturday, July 13, expand your perceptions at The Proposition.