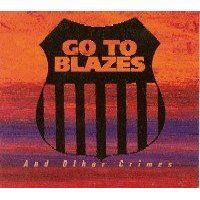 Back in 1995, I had only recently switched from bass guitar to keyboard. The band Martin's Folly was just getting off the ground, and we were looking for a keyboard player and couldn't find one, so I switched to keys, temporarily. (That temporary period has lasted for 22 years and counting.)
So in '95 I had been concentrating on the keys for only a year or so. I knew all the major and minor chords and most of the scales, and that was about it.
Eric "Roscoe" Ambel was producing the first Martin's Folly album, and he had another production gig lined up, for the Philadelphia band Go to Blazes. He asked me to play on that record.
It so happened that I had seen Go to Blazes perform a couple of months earlier. I was walking past Brownie's on Avenue A, and I heard a raunchy guitar sound that I liked. I paid the cover charge and went in, and on the stage was a four-piece, Stones-like band that had a don't-give-a-damn stage demeanor. 
So Go to Blazes came up to Brooklyn, and I met them at Coyote Studio in Williamsburg. The idea was that we were going to record an entire album of cover tunes in one evening. The band's German label, Glitterhouse, commissioned the record, and that was the concept. To make things tricky, because of budget constraints, we were to record the whole thing live to two-track, which meant no fixes, no patches or punches. We had to all get it right at the same time, and Roscoe and engineer Albert Caiati would mix it on the fly, sometimes even doing fade-outs while the band was still playing. 
The band was Ted Warren on vocals and guitar, Tom Heyman on guitar and backup vocals, Ted Pappadopoulos on bass and Keith Donnellan on drums. To fill out the sound were Bruce Langfeld (RIP) on acoustic guitar, who came up from Philly with the band, plus Joe Flood on fiddle, mandolin and acoustic guitar, and yours truly, Jim Duffy, on the studio's chopped-down Hammond organ - a "Porta-B."
To prepare for the session, the band purchased multiple cases of beer at the wholesale distributor (that space, on North 6th Street, is now an American Apparel store). They also bought a few bottles of brown liquor. As I recall, we sidemen were smoking some funny stuff, but the band didn't go for that at all - Go to Blazes were whiskey men.
They had sent me a cassette of the tunes we were to do, and it included Lou Reed's "Underneath the Bottle," Kinky Friedman's "Sold American," Gordon Lightfoot's "The Watchman's Gone," a Hank Williams Jr. song, a couple of Lee Hazelwood tunes and a few others. The one that caught my ear was a Gene Clark tune, "Out on the Side," from 1968, which I had never heard. The chord changes haunted me, and the singer sounded so wired and desperate. And the drum sound on that track was insane. At the time, I didn't know anything about the tragic Gene Clark - actually, I still don't. I kept going back to that tune, and I couldn't quite get my head around those strange chord changes. By the time the session came around, I still didn't have the tune under my fingers. 
We started recording at about 6 p.m. on a warm spring day, the seven-piece group, plus Roscoe and Albert in the control booth. We started with the Lou Reed tune, and we knocked it out in one or two takes. It came out quite nicely, in fact. The camaraderie was good, we had put some points on the board, and we kept going, one tune after another, well into the night. When it came time for "Out on the Side," I was thinking, "uh-oh."
The DAT tape started rolling, and Keith counted us in, and I didn't know what I was going to do. I kinda-sorta knew where this complex song wanted to go. As we started playing, I was hanging on by my fingertips, watching everyone else to try to divine where we were going. In a couple of places you can hear that I'm letting the guitar players go to the change first, then I follow, Al Kooper style. 
And then, as sometimes happens, the music took off on its own. The chords started playing themselves, and I was just sitting at the organ, letting it happen. Whoosh. It was all a blur. The glorious changes of "Out on the Side" came ringing out, one after another. 
Dang. That may have been what I said, because back then I was affecting a roots-rock way of speaking, even though I'm a proud native of New Jersey. 
We played the rest of the tunes and got some nice versions. The session lasted all night, and we drank all that beer, and the guys in the band drank all that booze. By the time we finished, the sun was up.
The album that came out is called "Go to Blazes ... And Other Crimes," and if you find it, you should get it. And wow, I just now noticed that it was mastered by Elliot Sharp. For now, I wanted to draw your attention to the version of Gene Clark's "Out on the Side."