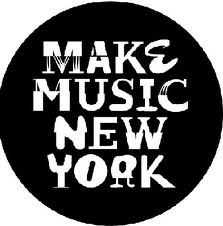 Do you know about Make Music New York? For the past seven years, on the day of the summer solstice, usually June 21, Make Music New York has organized live music all over the city, from 10 a.m. to 10 p.m.
On Friday, June 21, 2013, Make Music New York returns, and more than 650 music groups and individual artists will perform at more than 300 venues throughout the five boroughs.
As a city-dweller and pedestrian, in Greenpoint and Williamsburg, and in the East Village and Lower East Side and Lower Manhattan and elsewhere, I have seen heard some cool music ensembles and and fun bands and individual artists that I would not have seen otherwise. All kinds of music on the sidewalks that day, and in the parks, in public gardens and on corners and plazas -- ethnic music of all kinds, jazz, classical, experimental, avant garde, folk music, rock and roll, pop music, soul and R&B.

This year, as part of Make Music New York, I will perform two solo sets of moody and bouncy instrumental music, playing original tunes, favorite cover tunes and improvisations using an electronic keyboard and a small amplifier. The events are Friday, June 21, at 1 p.m. and at 4 p.m., in two neighborhoods in Queens.
1 p.m., on the sidewalk in front of Sweet Leaf, a cafe at 10-93 Jackson Ave. in Long Island City, Queens.
Then I'll pack up my gear and take the Q66 bus to Astoria.

4 p.m., on the sidewalk in front of Cafe Bar, 3290 36th St, in Astoria, Queens.

So if you're in New York on Friday, June 21, check the schedule for Make Music New York and go see some live music, and if you're in Queens, come by and say hello.